MTV'S "LAGUNA BEACH" RETURNS FOR THIRD SEASON
PREMIERING WEDNESDAY, AUGUST 16 AT 10:00 PM ET/PT

"Laguna Beach" Season Two DVD Debuted August 8 with Exclusive Bonus Features

Sneak Peek of Season Three Premiere to Air on MTV Overdrive August 12

Weekend-long "Laguna Beach" Marathon of Seasons One and Two Airing August 12 and 13
FEATURES

Mad TV's parody Laguna-Biotch

Laguna Memories - including cast home videos and childhood photos

Laguna Guide to Love Feauturette

Behind the Season 2 Finale with the Cast

Seventeen Magazine Cover Shoot

Cosmo Girl Magazine Photo Shoot

Audio: English English Dolby Digital Stereo

RELEASE INFORMATION

Running Time: 367 minutes

Original Release Date: 2004

New York, NY, July 11, 2006 – MTV is heading back to Orange County, California for the new season of the popular reality drama "Laguna Beach" premiering August 16 at 10:00 PM ET/PT. It's season three of "Laguna Beach" and although the players are new, the game is the same – scheming high school politics of hookups, breakups, love triangles and popular cliques of seasons past.

"The second season of 'Laguna Beach' was really a sequel to the first season, it completed the story, while this season we start from scratch with all new kids, all new drama and all new stories, which is very exciting," said Tony DiSanto, Executive Producer on 'Laguna Beach.' "Of course there will be some familiar faces and places, but this season is a whole new chapter in the Laguna saga."

This year, a variety of coming of age stories that surround high school life will be revealed. A girl will find love for the first time, but will she hold onto it? Will a lifelong friendship turn into something more? Does a high school rock band have a chance at making it big? And will a girl ousted from the popular clique find her way back in?

Welcome back to Laguna Beach, CA -- where the drama continues, teen angst rules and new faces are introduced:
| | |
| --- | --- |
| | Tessa –While she and Chase have dated in the past, their relationship is something between friendship and maybe a little something more. |
| | |
| --- | --- |
| | Chase – This hot lead singer of his very own rock band, "Open Air Stereo," is popular with guys and girls. He's also a best friend and shoulder to cry on for Tessa. |
| | |
| --- | --- |
| | Kyndra – The reigning queen bee of LB, Kyndra has it all – the right clothes, money to spend and the best party house. She rules the alpha-clique with best friend Cami, and Lexie. |
| | |
| --- | --- |
| | Cami – Always ready with a biting one-liner, Cami has style, confidence and attitude, and is not afraid to say what's on her mind. As Kyndra's best friend, they're all about the parties, fashion and keeping the hot guys in their court. |
| | |
| --- | --- |
| | Raquel (aka "Rocky") – Along with her best friend Tessa, Rocky is in a clash with the popular girls in school. |
| | |
| --- | --- |
| | Cameron – He's a player both on and off the field. All the girls in Laguna Beach have a crush on Cameron, but will this All-American jock get in trouble with too many loves? |
| | |
| --- | --- |
| | Kelan – He's lead guitarist in the band with good friend Chase, but Kelan is way more serious about making it work from a business perspective. |
| | |
| --- | --- |
| | Lexie –Training to be a professional dancer leaves her little time for all the boys who fall at her feet. |
| | |
| --- | --- |
| | Breanna – She's Lauren's (LC) little sister and those are big shoes to fill. |
Beginning July 12, fans can log on to MTV.com to view cast bios and photos. A sneak peak of the first episode of the new season will premiere on MTV Overdrive August 12. Also, following the premiere and every week thereafter, MTV Overdrive will air "Laguna Beach: The After Show" featuring exclusive cast interviews, personal home and car tours of cast members and behind-the-scenes cast video diaries that further explore interests and hobbies (ie, surfing, band practice and dance rehearsals). The "After Show" will also be available on MTV's VOD. Fans can relive all the drama-filled "Laguna Beach" moments in seasons one and two during a weekend-long marathon beginning August 12. In addition, a "Laguna Beach" online radio station is set to launch with the cast picks. In late August, fans will be able to download music from season three on URGE. MTV Mobile will also allow fans to preview the first act of the premiere episode, download ringtones and wallpapers, view cast "room tour" segments, and play several mobile games and quizzes like the "Fact or Fiction" text message quiz to test viewers' knowledge of the show.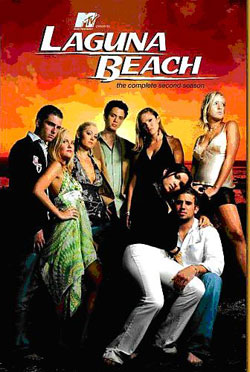 On August 8 the DVD for the second season of "Laguna Beach" was released. "'Laguna Beach' – The Complete Second Season" includes all 17 episodes and bonus features including: deleted scenes, cast interviews, Laguna Beach Memories—including cast home videos and childhood photos, "Laguna Beach" Highlights- Girls are Vicious, and The Two Triangles. – Featurettes include Laguna Guide to Love, Fight the Slide 2005, Behind the Season Two Finale with the Cast, Seventeen magazine cover shoot with Kristin, and Cosmo Girl magazine photo shoot with the guys of Laguna. The three-disc set has a suggested retail price of $39.99. (Buy it cheaper here!)
The successful second season of the powerhouse series reached over 88 million fans and was the most watched program in its time period among viewers ages 12-24 across all of television, even out-delivering broadcast.
"Laguna Beach" was created by Liz Gateley. Gary Auerbach, Tony DiSanto, Liz Gateley, Mark Ford, Kevin Lopez and Dave Sirulnick are Executive Producers. Adam DiVello serves as Development Executive for "Laguna Beach."
MTV Networks, a unit of Viacom International Inc. (NYSE: VIA, VIA.B), is one of the world's leading creators of programming and content across all media platforms. MTV Networks, with more than 100 channels worldwide, owns and operates the following television programming services – MTV: MUSIC TELEVISION, MTV2, VH1, mtvU, NICKELODEON, NICK at NITE, COMEDY CENTRAL, TV LAND, SPIKE TV, CMT, NOGGIN, LOGO, MTVN INTERNATIONAL and THE DIGITAL SUITE FROM MTV NETWORKS, a package of 13 digital services, all of these brands are trademarks of MTV Networks. MTV Networks connects with its audiences through its robust consumer products businesses and its more than 90 interactive properties worldwide, including online, broadband, wireless and interactive television services and also has licensing agreements, joint ventures, and syndication deals whereby all of its programming services can be seen worldwide.
» LAGUNA BEACH SEASON 2 DVD

TWO lucky winners will win this DVD!