Phil Labonte -Vocals
Mike Martin - Guitars
Oli Herbert - Guitars
Shannon Lucas - Drums
Jeanne Sagan – Bass
People have a certain idea of what this band is, and when they hear the new stuff...it's a new approach to our style," vocalist Phil Labonte says. "It's almost like a new way to look at an old friend."
With a desire to continually evolve, yet retain the trademark heavy and technically-skilled sound that All That Remains has established with the band's breakthrough album, 2004's This Darkened Heart, Labonte and company have done just that with The Fall of Ideals. Where the last record found the band intertwining heavy music, virtuoso solos, and unmatchable melody, All That Remains' current collective goal is to build on elements that the last album only hinted at. "Everything we did on This Darkened Heart, we are turning up a notch," Labonte says. "This disc will have some of the most aggressive, and some of the most friendly, pieces of music All That Remains has ever written."
After initially forming in 1998 as a side project for Labonte and guitarist Oli Herbert, the band left a stamp on the underground metal scene with its debut album, 2002's Behind Silence and Solitude. After bringing in guitarist Mike Martin and releasing This Darkened Heart torave reviews in 2004, All That Remains landed high-profile tours and shows alongside the likes of Gwar, The Crown, Arch Enemy, Darkest Hour, Shadows Fall, Lamb of God, and Slipknot and toured virtually non-stop, only taking a break in late 2005 to write new material.
The Fall of Ideals is the culmination of the original ideals, ideas, and elements that All That Remains was initially founded upon. Combining the grinding riffs and unrelenting rhythms of death metal legends and the tandem fluidity of Martin and Herbert's shredding, alongside Labonte's ever-expanding vocal repertoire of soaring notes and guttural growls, the band has now become everything it has been striving for since its inception.
"We're now at the point where we're the band I always wanted to us to be," Labonte says. "Musically, we're capable of doing what I originally wanted to do. As musicians, we can all live up to that goal."
With producer Adam Dutkiewicz (Killswitch Engage) and engineer Peter Wichers (ex-Soilwork) in tow, and artwork by Travis Smith (Iced Earth, Opeth, Soilwork), All That Remains doesn't simply possess flashy production, engaging artwork, or memorable songs. Instead, All That Remains has all three integral elements wrapped up in an undeniably heavy and aggressive, yet irrefutably memorable, package.
Taking that package on the road, All That Remains has an already busy 2006 with appearances on the European leg of the Sounds of the Underground tour and a stateside run on Ozzfest, as well as headlining duties in the fall. For the scores of fans they've already gained through constant hard work, The Fall of Ideals is the next logical step, taking the band precisely where they've always wanted to be.
Prosthetic recording artists All That Remains just announced a new tour this fall, after the release of their second album THE FALL OF IDEALS on July 11th. I have review copies, autographed CDs and posters for contests and the complete tour schedule and other assets available below! The album is the follow-up to their 2004 debut THIS DARKENED HEART. The explosive metal quintet has come to be known for their heavy riffs, memorable hooks and rowdy live shows. Revolver Magazine recently dubbed them "the future of American metal".
Fresh from their first stint on Ozzfest as one of the second stage's main attractions, Massachusetts' own All That Remains has been tapped as direct support for buzz-worthy band, DragonForce, on the UK-based band's first-ever North American headlining tour. The tour will kick off on September 8th in Los Angeles at The Wiltern, and All That Remains will play a string of headlining dates on the way out to California.
All That Remains' new album, THE FALL OF IDEALS (produced by Adam Dutkiewicz of Killswitch Engage), recently debuted at #75 on the Billboard Top 200 Album chart, selling nearly 13,000 in its first week. Kerrang! said that the album "bears all the hallmarks of a classic" and that the musicianship is "stunning…ruthlessly precise and powerful, and boosted by a sumptuous, skull-pounding production." The first single/video, "This Calling" can currently be seen on MTV2 and Fuse, as well as heard on hard rock stations nationwide. All That Remains' lead singer Phil Labonte appeared on MTV2's "Headbanger's Ball" on September 9th.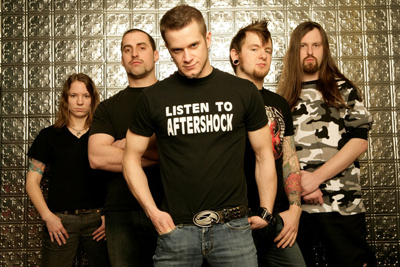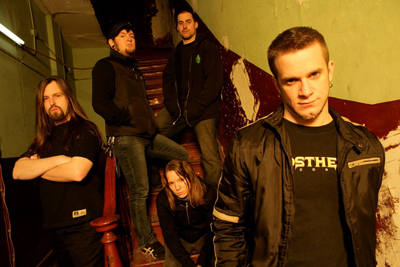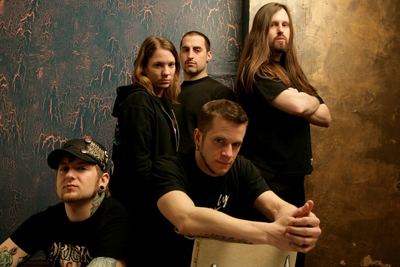 ALL THAT REMAINS on tour in support of DragonForce:
September 20
Chicago, IL
Vic Theatre
September 22
Cincinnati, OH
Bogart's
September 23
Detroit, MI
Harpo's
September 24
Toronto, ONT
Dock's Concert Theatre
September 25
Montreal, QUE
The Medley
September 27
Philadelphia , PA
The Electric Factory
September 28
Worcester, MA
The Palladium
September 29
New York, NY
Nokia Theatre
September 30
Washington, DC
9:30 Club
October 3
Oklahoma City, OK
Diamond Ballroom
October 5
Tempe, AZ
Marquee Theatre
October 6
San Diego, CA
House Of Blues
You can access the NEW tour E-card here
You can access the NEW tour Podcast here:
(iTunes) | (RSS Feed)
"This Calling" Audio Streams:
(Real) | (Windows Media)
You can download the FREE MP3 of the first single
"This Calling" at the All That Remains MySpace page:

All That Remains Official site